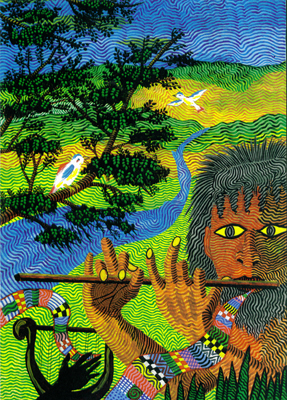 aproduct graph HARUO KANEKO

auto graph/reproduce@29.8~42cm

Jufval is a persons name from Genesis 4:21 he renowned for creating the harp and the pipe. Jufval is 8th from Adam the first musician in history to make harp and pipes the pioneer instruments and music. He had taken music to a different level. The first time instruments were made depended on the music can be glorified naturally using ones imagination.

yPoem of Jufbalz
A long time ago Jufval garden breeze coming out of the pipe/flute is Gods music. A long time ago unknown to everyone the first of Jufvals yard. The voice of a bird, if you could hear with Jufvals ears I could make the same pipe. The sound of water like the river listen I would like to reproduce with the harp. One warm enthusiastic day no-one knows the harps sound. Bronze and steel Tufbal-cain created dreamy romantic for Jufval music.